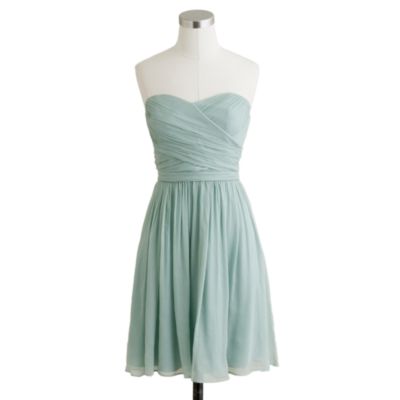 My dearest friend from high school is getting married next spring, and I'm so excited to be a part of her day! She picked out a lovely color from the JCrew chiffon collection for the bridesmaids – dusty shale. We each get to pick our own dress, which is nice because I get to find a cut that is flattering for my figure. Of course, the style I want is FULL price at $250 – sort of steep for the Discountess.
Thank GOD for Ebay! I went on last night only to find my dress in my size on sale for $149.99. I immediately snapped it up. Some are worried about shopping on EBay, but after I checking out the seller, I felt good about the purchase. They had some pretty solid marks in their favor. Namely, these:
1. The seller was based in southwest Virginia. JCrew's warehouses are based in SW VA, and if you ever get down there, they have a RIDICULOUS J Crew outlet in Lynchburg. I have been several times, and it's awesome. This isn't the outlet that you find in a Mills Mall, but a store that actually has current clothing from the catalog that has been overstocked in their warehouse. I'm pretty sure that's where this person got the dress.
2. The dress was listed New With Tags (NWT). Never worn, not smelly. YES!
3. The seller was listed as top-rated. After selling 4317 items on EBay (most of them from JCrew), I figured they were good for the sale.
The dress is expected to arrive this week, so I'll let you know how it goes.